1975 Wilson River Loop Road Tillamook, Or 97141
Fax: 503-842-5031 Phone: 503-842-5031

Fresh Bait is Our Business
Sand Shrimp, Salmon Eggs, Herring, Nightcrawlers, Mud Shrimp, Clams, Anchovies, Smelt, Tackle, ice, pop,candy, Tillamook Bay, The Wilson, Trask, Kilchis, Nestucca, Baker Bay, Youngs Bay, The Columbia, Fall Chinook, Salmon, Sturgeon, Steelhead,Perch , Crabbing, Bottom fishing, Tillamook Bay Bar Conditions, North Coast Fishing Information!
More Products at the Tillamook Bait Shop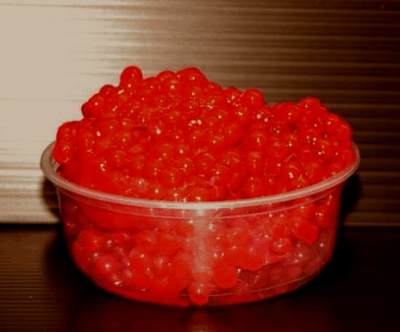 Marie's Chinook Eggs are the finest cured eggs in Oregon.
Cured with Mr. Sure Cure egg cure and hand dipped with Marie's Egg Scent.
Dipping our eggs in Marie' s Egg Scent produces an egg that out fishes all the competition.
All eggs can be ordered in ROCKET RED, ORANGE, or Florescent Red.
All our eggs are hand picked Oregons Finest Salmon Eggs.
Order Some Chinook Eggs Now!


We now carry shrimp scents,
sturgeon scents and egg Scent in our 24 hour vending machine!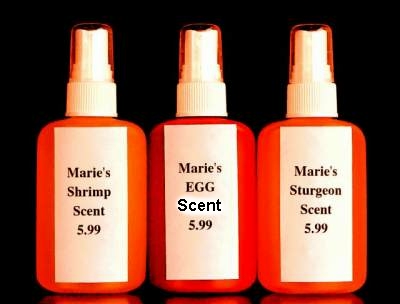 Marie's Shrimp Scent has caught fish from coast to coast!
All scents are made from the real natural baits. All scents are SUPER POTENT!
Marie's Shrimp Scents should be refrigerated to guarantee maximum potency.
Marie's Scents have been tried and proven as a highly effective fish attractant.
All of our scents are extremely effective when used on any natural bait,
plug, spinner, corkey, quick fish, or any artificial lure.
Please feel free to contact us about any specific questions or orders!
Note from Marie at Tillamook Bait:
Dear fishing fanatics,
I have had such an overwhelming response to my scents and fishing products, that I put up two more pages about my products.
These pages are graphic intensive, so be patient.
Here are the pages:
Products one
Products two
Go catch some fish!!
Sincerely,
Marie

Call us for river reports! (503) 842-5031
The Tillamook Bait Shop Discussion Board and River Reports!
CLICK HERE!

We can also ship your bait UPS!!
This requires aone-week notice and must be pre-paid,
or the order will be shipped C.O.D.

We have a live bait
vending machine!

You can get bait any time of day or night! The machine takes One dollar and Five dollar bills only.
It's kind of like a pop machine, but with bait!
The machine holds sand shrimp, worms and Chinook eggs.

*(Some of the baits we sell may be available only during the season in which they are primarily used.)

Check us out at Ifish.net!
Page webbed by Jennie